Disaster preparedness panel for children and adolescents was held at the 6th Men's Health Congress
The 6th Men's Health Congress was held virtually with a focus on men's health in the post-corona with two axes of mental health and accidents.
In this congress, in addition to the topics announced in scientific panels or the presence of professors and policy makers, various topics such as men's sexual health literacy, the role of mental health literacy and self-care in men, the impact of pandemics on men's mental health, anxiety and mood problems, aspects Psychological and social problems, marital problems, pandemics and high-risk behaviors of adolescents, cases of violence during the corona and post-corona, trauma caused by accidents, their prevention and care, Quaid management in Iran and the world with an integrated approach .
In the Disaster and Disaster Preparedness Panel, Dr. Masoumi on the effect of education on the perception of risk of both sexes in children and adolescents, Dr. Sadeghi Bazargani on the epidemiological situation and the effects of traffic accidents on children and adolescents by looking at both sexes, Dr. Jafarnejad spoke about the impact and challenges of facing Covid 19 in children and adolescents and Dr. Dehghani spoke about the effects of climate change on children's health.
It is worth mentioning that this congress was organized by the Men's Health and Reproductive Health Research Center.
Click on the link below to download slides on the effects of climate change on children's health:
https://www.researchgate.net/publication/337469284_climate_change_and_children%27s_health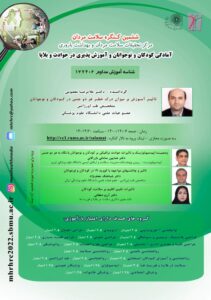 مطالب زیر را حتما مطالعه کنید