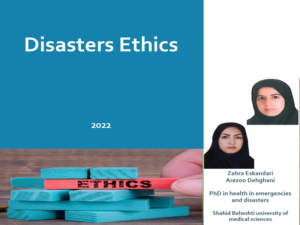 The principles and goals of medical ethics are the criteria for professional behavior in all situations, especially in emergencies and disasters, because according to the inherent conditions of these events, ethics becomes more important and sensitive.
Emergencies and disasters have a great impact on society economically, socially and psychologically. Stressful situations can disrupt rational and correct decisions by health system staff. It is essential to avoid isolating or humiliating patients on the grounds of ethnicity, race, gender, beliefs, age, socioeconomic status, or sexual orientation in disasters.
Medical ethics in disasters should be observed by staff and organizations related to the health system, as well as attention to ethics in educational issues is another area of ​​this field.
In the slides that can be downloaded in the following link, the ethics of emergencies and disasters are discussed.
https://www.researchgate.net/publication/358739232_Disasters_Ethics
مطالب زیر را حتما مطالعه کنید