Hospital safety assessment, a step towards effective risk management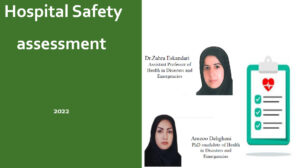 n addition to harming the general population and infrastructure, the occurrence of hazards also affects health care systems.
Specifically, the structural, non-structural and functional components of hospitals can be affected by the occurrence of hazards and in addition to the fatal consequences for staff and patients, damage to property and equipment, lose their function to accept the injured and in Increase the burden of death from the accident.
The hospital's vulnerability depends on the extent of its weaknesses at the time of disasters. Proper and regular assessment of potential risks and vulnerabilities is essential for effective risk planning and management.
The training file, which can be downloaded at the following link, describes the dimensions of the hospital safety assessment:
https://www.researchgate.net/publication/359876061_hospital_safety_index
مطالب زیر را حتما مطالعه کنید